Stolen or Wanted otherwise by the NZ Police.
Verify at NZ Police.
Limitations of the Data
Users of this information should be aware of the following limitations. Stolen vehicle information listed here is a snapshot of data taken from the Police Vehicle of Interest database and is updated three times per day. There can be a brief delay in stolen vehicles appearing and in recovered vehicles being cleared from the list. Some vehicles listed as stolen will have been located but Police haven't been advised. This data does not include lost or stolen registration plates.
What if you know the location of a stolen vehicle?
If you know the location of a stolen vehicle, always think about your own safety and the safety of others. Do NOT pursue a vehicle you believe may be stolen. If the vehicle is being driven or you believe the driver or the vehicle occupants are still nearby, then please call 111 and ask for Police.
Abandoned Vehicles
If the vehicle appears to be abandoned then please advise Police of its location by contacting your local police station. If you want to provide information anonymously about this vehicle contact Crime-stoppers on 0800 555 111.
Updating stolen info...
Failed to update stolen information. Please, check a bit later.
Any issues with the vehicle?
CarJam Full Report runs over 50 checks and exposes any problems in one easy-to-read list of alerts, warnings and notices. And we have USA history.
Year:
2007
Make:
NISSAN
Model:
WINGROAD
Colour:
Silver
Submodel:
1.8 PETROL WAGON
Body Style:
Station Wagon
VIN:
JN1TBAY12A0017581
Plate:
FWG535
Engine No:
MR18DE-063482A
Vehicle Type:
Passenger Car/Van
Seats:
5
CC rating:
1,797cc
Fuel Type:
Petrol
Power:
94kW
Transmission:
6-gear automatic
Assembly Type:
Imported Built-Up
Country of Origin:
Japan
Gross Vehicle Mass:
1,540kg
Vehicle Equipment Class:
XMA
Industry Class:
PRIVATE
MVMA Model Code:
TDSARHWY12EDAEC
Model Code:
TDSARHWY12EDAEC;
Variant:
0
Photo of a similar vehicle or model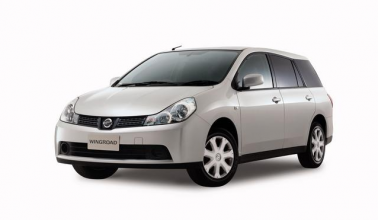 Money Owing and Security Interests?
If there is a security interest registered, another person or company may seize a vehicle to pay off the debt! Often vehicle debts are hidden on the vehicle's past plates. There are over 500,000 registered debts on vehicles each year. 255,000 debts hidden on the past plates. A CarJam Report includes money owing checks on all plates previously attached to a vehicle.
Get CarJam Report
Vehicle Fitness
Book WOF, Service or Repair
Remind me when Vehicle Inspection is due
Registration and Licence
Plates History
| Plate | Effective Date |
| --- | --- |
| FWG535 | 08-Jun-2011 |
| CAP002 | 07-Nov-2007 |
| EDM850 | 26-Sep-2007 |
Registration Status:
Get CarJam Report
Plate:
FWG535
Plate Type:
Standard
Origin:
NZ New
Used as:
Private Passenger vehicle
Cause of Latest Registration:
New
NZ First Registration:
26-Sep-2007
NZ Last Registration:
Get CarJam Report
Was Registered Overseas?
No
Odometer
Is odometer reliable?
Get CarJam Report
Last Odometer Reading:
Get CarJam Report
Recent Usage:
7

Km/day
Recent Fuel Cost:
$1.14/day

at $2.44/litre
Usage Level:
Average

13,500/year
Odometer History
As of 13-Aug-2019 Check latest odometer readings.
2019-Aug-13
WOF Inspection

7 Km/day

Failed inspection

$1.04/day at $2.23/litre

184,705 Km

2018-Sep-28
WOF Inspection

182,543 Km

2018-Sep-28
WOF Inspection

23 Km/day

Failed inspection

$3.48/day at $2.20/litre

182,543 Km

2018-Jan-18
WOF Inspection

176,748 Km

2018-Jan-18
WOF Inspection

30 Km/day

Failed inspection

$4.21/day at $2.03/litre

176,748 Km

2016-Dec-15
WOF Inspection

21 Km/day $2.79/day at $1.88/litre

164,767 Km

2015-Nov-27
WOF Inspection

47 Km/day $6.57/day at $2.01/litre

156,512 Km

2015-Feb-26
WOF Inspection

7 Km/day

143,560 Km

2015-Feb-26
WOF Inspection

72 Km/day

Failed inspection

$10.51/day at $2.11/litre

143,553 Km

2014-Feb-10
WOF Inspection

73 Km/day $10.84/day at $2.17/litre

116,032 Km

2013-Aug-01
WOF Inspection

8 Km/day $1.24/day at $2.25/litre

102,040 Km

2013-Aug-01
WOF Inspection

67 Km/day

Failed inspection

$9.97/day at $2.14/litre

102,032 Km

2012-Jul-30
WOF Inspection

37 Km/day $5.32/day at $2.10/litre

77,316 Km

2011-Jul-08
WOF Inspection

63,090 Km

2011-Jul-08
WOF Inspection

47 Km/day

Failed inspection

$6.68/day at $2.06/litre

63,090 Km

2010-Nov-22
WOF Inspection

52,353 Km

2010-Nov-22
WOF Inspection

50 Km/day

Failed inspection

$6.07/day at $1.76/litre

52,353 Km

2009-Nov-16
WOF Inspection

43 Km/day $4.80/day at $1.60/litre

33,746 Km

2008-Oct-20
WOF Inspection

43 Km/day $5.49/day at $1.85/litre

16,716 Km

2007-Sep-28
WOF Inspection

25 Km

more...
Fuel Economy
or of city commute.
$
/year
There is no fuel economy data for this vehicle.
Vehicle Safety
This vehicle has no safety rating available.
Carbon Dioxide Emissions
☠
---
Running Costs
Does not include depreciation and insurance.
Total Costs

per 14,000 Km per year

Total per month
$312
Total per day
$10
Total per 100 Km
$27
Fixed Costs

$209

per year

Licence
$109
WOF/COF
$100
Flexible Costs

per 14,000 Km

Fuel

6.90 litres/100km

$2,356

$2.44 per litre

Servicing
$713
Tyres
$380
Engine Oil
$80
Ownership History
7 owners in New Zealand (4 owners excluding dealers)
Did you know there are approximately 55,000 Illegally sold vehicles each year? Full New Zealand ownership history. How many owners? Name and address details on non-individual ownership.
Please note that the names and addresses of individuals are not available as of May 2011 privacy law changes unless you are an authorised business entity. You can use our Seller Check service to confirm exact owner.
Get CarJam Report
Market Valuation
Model
Valuation

2007 WINGROAD

1.8 S/W AUTO [IMPORT]

petrol

;

1800cc

;

used import

;

4 cylinders

now

$

???

—

1y

$

???

—

2y

$

???

2007 WINGROAD

ST-L 1.8 5DR S/W AUTO

petrol

;

1797cc

;

used import

;

4 cylinders

;

was $30,380

;

CVT

now

$

???

—

1y

$

???
Missing a submodel?
---
USA History
This vehicle's VIN has been located in the US's National Motor Vehicle Title Information System.
This report will contain the following information where available:
Title History
Ownership history, How many owners...
Accident History
Impacted areas, Repair cost...
Odometer History
Wind backs, excessive usage and other problems...
Theft History
Junk, Salvage, Insurance Records
Sales History History
Reconstructed or Refurbished
Used as Rental, Taxi or Police car?
And more...
Source: VINaudit
NMVTIS Disclaimer. The National Motor Vehicle Title Information System (NMVTIS) is an electronic system that contains information on certain automobiles titled in the United States. NMVTIS is intended to serve as a reliable source of title and brand history for automobiles, but it does not contain detailed information regarding a vehicle's repair history. All states, insurance companies, and junk and salvage yards are required by federal law to regularly report information to NMVTIS. However, NMVTIS does not contain information on all motor vehicles in the United States because some states are not yet providing their vehicle data to the system. Currently, the data provided to NMVTIS by states is provided in a variety of time frames; while some states report and update NMVTIS data in "real-time" (as title transactions occur), other states send updates less frequently, such as once every 24 hours or within a period of days. Information on previous, significant vehicle damage may not be included in the system if the vehicle was never determined by an insurance company (or other appropriate entity) to be a "total loss" or branded by a state titling agency. Conversely, an insurance carrier may be required to report a "total loss" even if the vehicle's titling-state has not determined the vehicle to be "salvage" or "junk." A vehicle history report is NOT a substitute for an independent vehicle inspection. Before making a decision to purchase a vehicle, consumers are strongly encouraged to also obtain an independent vehicle inspection to ensure the vehicle does not have hidden damage. The Approved NMVTIS Data Providers (look for the NMVTIS logo) can include vehicle condition data from sources other than NMVTIS. NMVTIS data includes (as available by those entities required to report to the System): Information from participating state motor vehicle titling agencies. Information on automobiles, buses, trucks, motorcycles, recreational vehicles, motor homes, and tractors. NMVTIS may not currently include commercial vehicles if those vehicles are not included in a state's primary database for title records (in some states, those vehicles are managed by a separate state agency), although these records may be added at a later time. Information on "brands" applied to vehicles provided by participating state motor vehicle titling agencies. Brand types and definitions vary by state, but may provide useful information about the condition or prior use of the vehicle. Most recent odometer reading in the state's title record. Information from insurance companies, and auto recyclers, including junk and salvage yards, that is required by law to be reported to the system, beginning March 31, 2009. This information will include if the vehicle was determined to be a "total loss" by an insurance carrier. Information from junk and salvage yards receiving a "cash for clunker" vehicle traded-in under the Consumer Assistance to Recycle and Save Act of 2009 (CARS) Program. Consumers are advised to visit www.vehiclehistory.gov for details on how to interpret the information in the system and understand the meaning of various labels applied to vehicles by the participating state motor vehicle titling agencies.
CarJam Disclaimer. The title records, junk/salvage/insurance records, and reported vehicle brands listed in the "Problem Check" section is compiled from data in NMVTIS. This vehicle history data is passed from our connection with AAMVA to our servers, which serves this report to your browser. This process of compiling the report through our connection with NMVTIS has been tested and approved by AAMVA. However, CarJam.co.nz neither enters nor validates the data in NMVTIS, so CarJam does not guarantee the accuracy or completeness of the data presented. The vehicle specifications presented are based on a decoding the VIN (which statically identifies the vehicle's manufacturer and description). Hence, it will not reflect specific modifications made to this particular vehicle over the course of its existence. Furthermore, the accuracy of this decoding is not guaranteed. Please refer to the full Terms and Conditions of this report.
Get CarJam Report
No
Checking if USA history exists...
Report Details
| | |
| --- | --- |
| Report includes: | Cached Basic Facts. |
Disclaimer
The report was created and is only valid as at 13-Aug-2019 2:28pm. The information provided in this report is provided by third parties. While CarJam has taken all reasonable care in preparing the report we are unable to guarantee its accuracy and no responsibility is assumed by CarJam or its agents for errors or ommissions in this report. If you know that some information is incorrect you may be able to fix this.